Jennifer Potter, Founder of Fete Home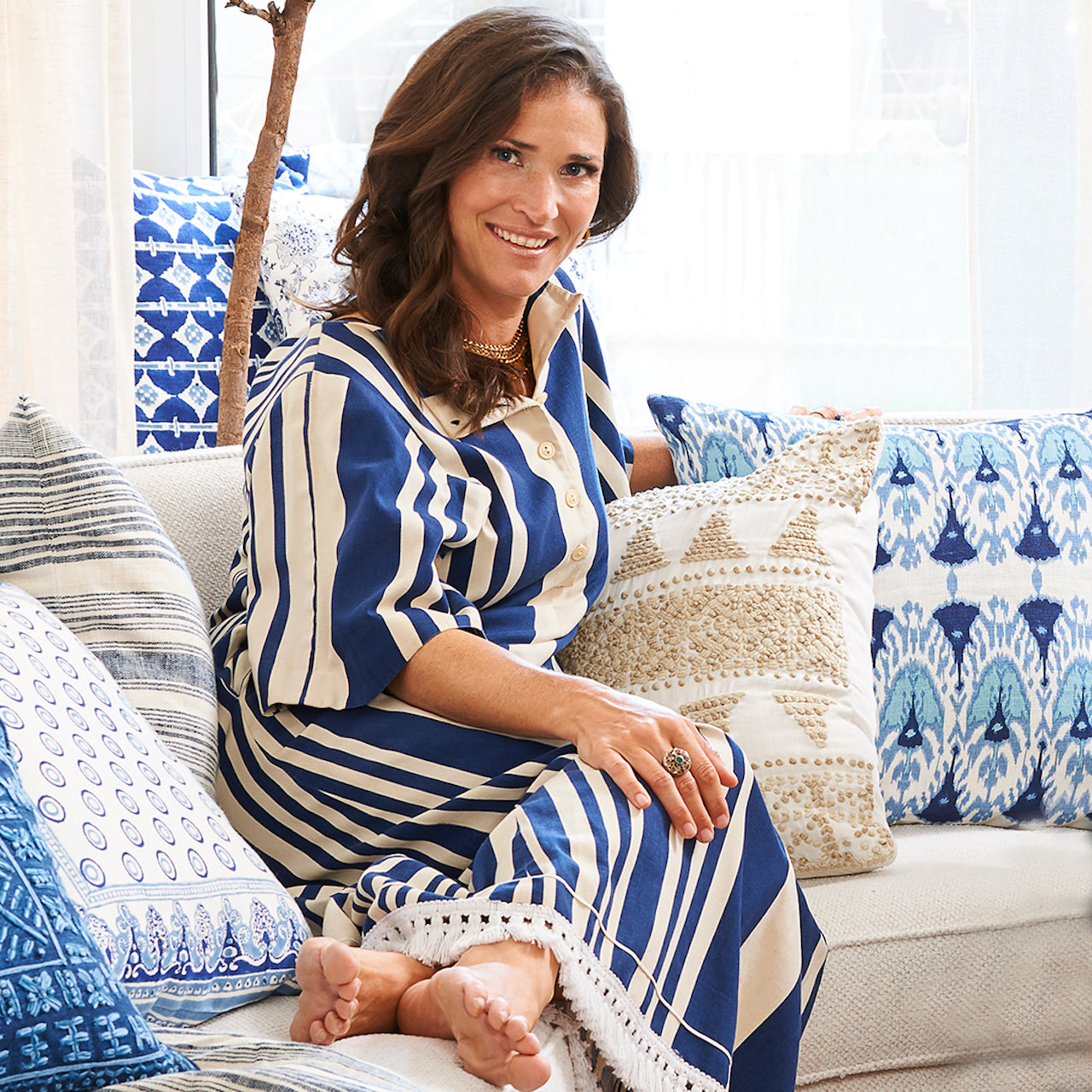 Jennifer Potter is Founder of Fete Home, mother to two incredible humans and a passionate entrepreneur. After spending the first part of her career in the financial services industry, Jennifer was hired to run Bunny Williams Home. She proudly oversaw finance and operations for 10 years and grew the business into the comprehensive lifestyle brand that it is today. Jennifer, daughter to renowned artist Clare Potter, grew up in a home that oozed with creativity. She was constantly surrounded by color and creation. Eventually, Jennifer's business acumen and creative influences joined hands and she started dreaming of a business that could utilize her management skills and exercise her creativity. In 2019, Fete Home was born. The brand focuses on whimsical patterns that are hand blocked onto table linens, pillows, throws and more. Jennifer believes in two very simple rules when looking for objects to fill your home ... they must bring you joy and they must spark inspiration. Fete Home's collections aim to do just that.
Picks From Fete Home... 
 

A subtle blue stripe appeals to everyone, fits in everywhere and there is no easier way to change the vibe of a room with a simple pillow switch out. I love our pillows too because they come with a down alternative insert that is beyond luxurious. 

 

Placemats are always a winner. You can never have too many, they are easy to store and they completely change the look of a table. Our woven fruit placemats follow my ethos. Have fun and find joy!

 

We carefully named each of our patterns and truly consider them to have very unique personas. "Meraki" is a word I fell madly in love with years ago. It means that you've put a piece of yourself into something, a labor of love, creating with soul. This year we translated this pattern onto hand painted ornaments that I'm completely obsessed with!

 

 

We've mixed a few of our favorite patterns into this set of adorable linen cocktail napkins, always a charmer. 
And Outside Fete Home... 
 

I adore Kayce Hughes. She is a brilliant artist and creative mind. Her work is colorful and often whimsical and you just can't help but feel good when you're around it. Art brings a room to life and gives so much personality. And while buying art is incredibly personal, if you find a small work of art that you love, in a way you're giving a piece of yourself to someone. I love giving (and receiving!) small works of art because they are reminders of those that gave them. 

 

I love a gorgeous unique bowl and there is something so wonderful about a piece that is completely unique because of the way it is handmade. Christopher needs no introduction and these bowls need no boasting as they are the perfect gift.

 

I'm a bit of a scarf nut and can never seem to have enough, but one always stands out and garners endless compliments when I wear it. These scarves and shawls are true treasures, just like the brand's Founder, Sonica.

 

 

These indoor/outdoor Venetian velvet slippers are everything. They come in endless colorways and are the most comfortable flats in my closet. Female founded brand Sant M is devoted to comfort whilst not sacrificing fashion. These slippers are total charmers!