Laura Beck, Founder of Lottolove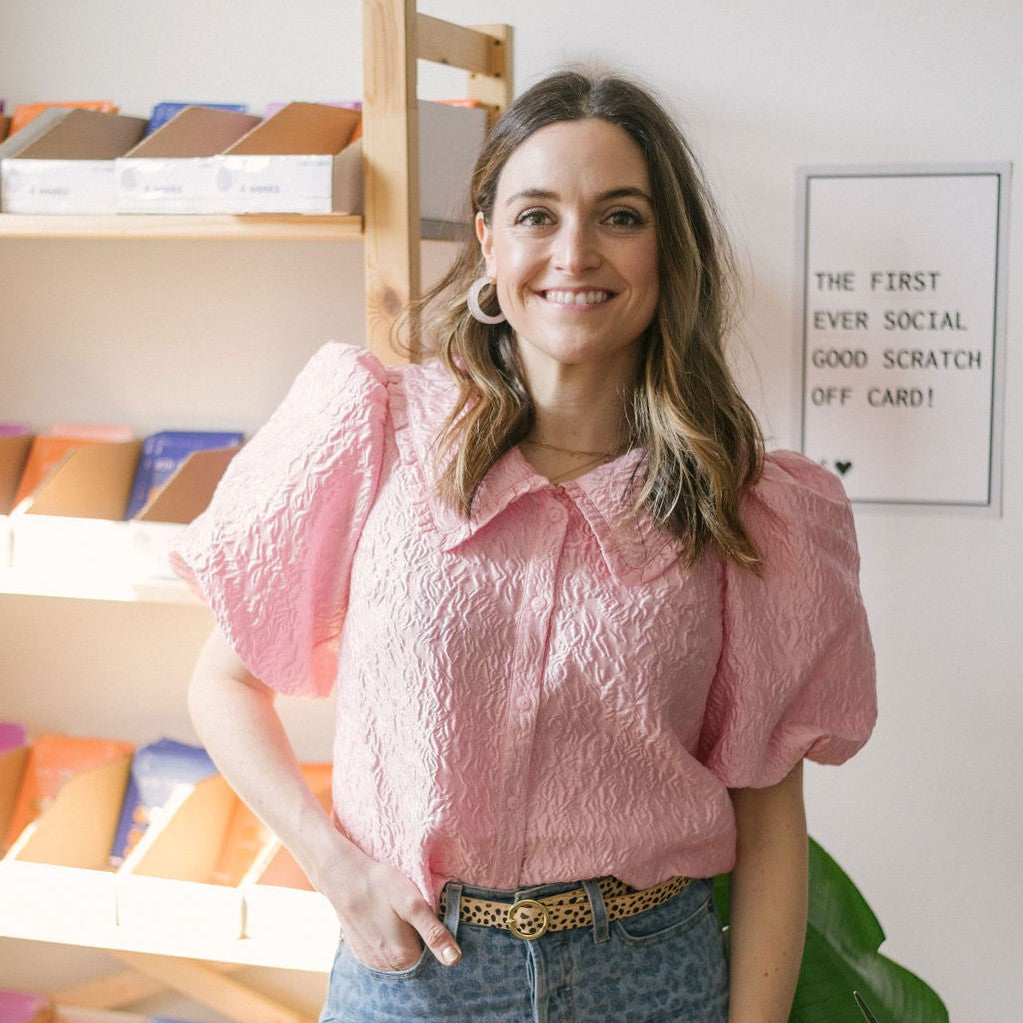 Years after visiting some of the most remote parts of the world Laura made it her mission to change how we gift & give by turning lottery tickets into charitable gifts that spread positivity and love while helping those who need it most.
Every March Laura's dad traveled to Central America to help build an orphanage and provide much-needed medical care. Eventually, they traveled as a family to some of the most remote parts of Guatemala. She saw people struggling to live, and that memory and feeling never left her. 
It wasn't until Laura noticed her husband's love for scratch-offs, and remembered her Grandma had loved them too, that she realized while scratch-off tickets are so fun and exciting, it's about winning for yourself. She wanted to flip the concept on its head and bring people together around doing good and winning for others.
Using her background in design and advertising she created LottoLove and launched with the Basic Needs ticket. After giving birth to her daughter she added a new product line, Win for Women, which focuses on supporting and empowering young women & girls. Collectively the LottoLove assortment helps to drill boreholes for clean water, provide tools necessary for kids to learn how to read & write, give girls an opportunity for education & political involvement, mentor girls to make changes in their lives & community, provide nutritious meals & replace kerosene lamps with solar energy. 
LottoLove has been on the Today Show & Ellen Degeneres and featured in several national publications: Real Simple, Woman's Day, Redbook and more! 
 

This is a special gift pack because it was created to inspire others and celebrate women. Each ticket comes with an inspiration card which is a quote from a female founder. Perfect to hang in someone's office, frame it, or hang on the fridge. 

 

This is one of my favorite options for large gifting occasions such as dinner parties, corporate events, swag bags, etc.

 

When you need a quick all in one gift this is it! You give 4 basic needs tickets in 1 gift and have the opportunity to write a message in the greeting card to make it even more special.

 

 

Remember when you forgot someone's birthday coming up? Our birthday bundle is 12 birthday gifts so you are prepared for every birthday throughout the year.
 

I love gifting with purpose and being able to create awareness about more sustainable living. These soap tablets come in compostable packaging and you just refill as you go! 

 

These candles are hand-poured by women refugees and give back by donating solar lights! They are made with all of the good stuff and none of the bad stuff and the glass is a drinking vessel when you're done.

 

I love to give plants. I prefer them to cut flowers as they last longer and just brighten any space. I tend to give a low light tolerant plant so they are easier to care for.

 

 

Supporting small businesses is really important to me and Betsy's leather goods are sustainable and beautiful!