Penelope and Hunt, Mastermind and Artist behind the "Hop Up Shop"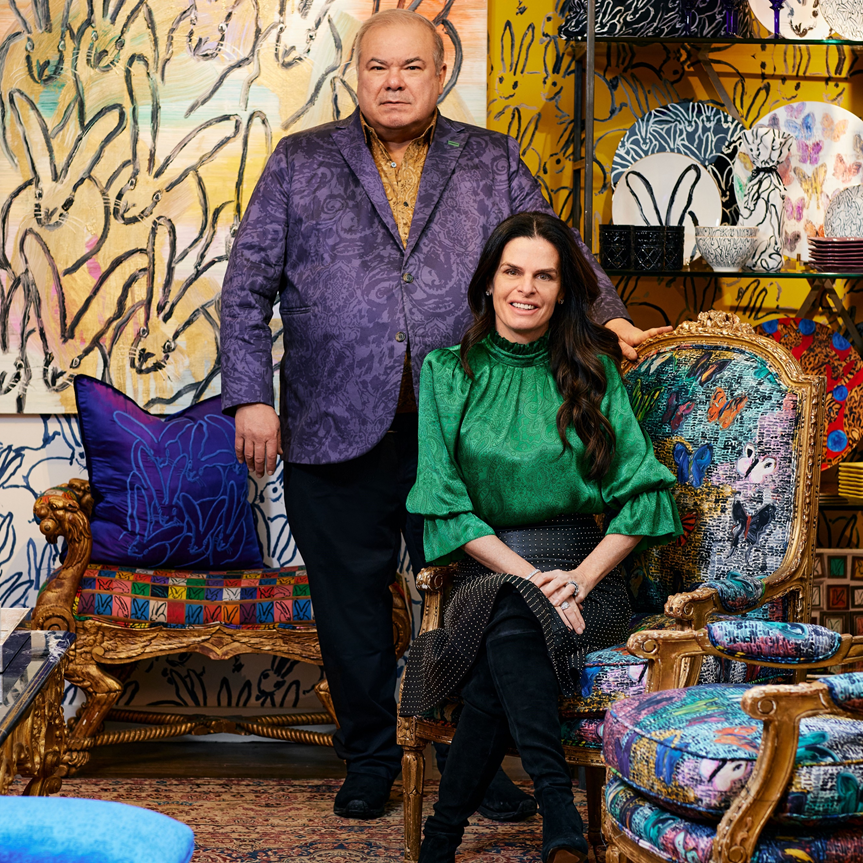 With two weeks left until Easter, it's the perfect time to introduce our latest guest gift gift spotters, Hunt and Penelope, two creatives that know a thing or two about bunnies and whimsical spring motifs! 
A bit about Hunt... 
Hunt Slonem is an American artist best known for his "maximalist" paintings of wildlife exotica —most famously birds, rabbits and butterflies. Drawing inspiration from the spiritual and natural worlds, Slonem repeats these motifs on an epic scale in an act of visual and artistic mantra. Rendered through loose, gestural brushwork, his figures dissolve into rhythmic patterns at the edges of abstraction, creating symphonies of color, line and form across a highly textural canvas. His oeuvre's meditative qualities are equally matched, by a "remarkable levity... a lightness of being" (Henry Geldzahler, Metropolitan Museum of Art 1996). Slonem has also received critical acclaim for his restorations of national historic monuments, including Gilded Age mansions and Antebellum mansion, which the artist saves from neglect and fills with installations combining his work with collections of 19th century antiques. Slonem has exhibited the world-over and has had over 350 shows, including 20 museum exhibitions.
And now you can own a piece of his collection to adorn places other than just your walls...
The Hunt Slonem Hop Up Shop is the mastermind of gallerist Penelope Kernen. After representing Hunt Slonem's work in The Peanut Gallery, the contemporary art gallery she owns in Summit, NJ, she realized the wide range appeal of Hunt Slonem's art and created a curated collection of luxury Hunt Slonem home decor and fashion accessories using the signature motifs of bunnies, birds and butterflies found throughout Hunt's work. Said Slonem, "I've really enjoyed creating this collection -- it's such a nice extension of what I do. I consider rabbits to be a sign of rebirth, so it's fitting that the Hop Up Shop is a part of an exciting retail environment after the year we've all been through." The collection includes a wide array of must-have items such as gold-rimmed plates and bowls, portrait plates, high gloss lacquered trays, boxes and coasters. The shop will also feature sateen bed linens, cashmere throws, plush velvet and silk decorative pillows, linen guest towels and table linens, all featuring Hunt's "exotica" of bunny, bird and butterfly motifs, manufactured in the finest mills all over the world.
While the entire collection of merchandise is available online, the collection is also on display at Bergdorf Goodman through May. For those NYC followers in Midtown this spring, hop up to the 7th floor BG loft space to add a fun spring pit-stop to your day! 
Below you will find some of Hunt and Penelope's picks in and outside the Hop Up Shop. Some of these picks are also scattered throughout the site as you browse various gifting permutations!
The Hop Up Shop...

 

Penelope loves gifting the Bunny Portrait Plates because they make everybody smile. The plates are designed to look like Hunt's fabulous bunny paintings and are available in a rainbow of colors. Many people love to collect them and use them as tapas plates, trinket trays, or even to hang on the wall! Pair with their linen cocktail napkins for a wonderful hostess gift. 

 

Hunt is a sucker for the PILLOWS! The color and the velvet silk combo is perfection! The pillows are one of his favorite items from the entire collection. He just can't get enough of them!

 

Penelope loves gifting their gold leaf Royal Lacquer Serving Tray because whoever receives it is going to use it all the time. It's elegant, functional and fun. Bright white lacquer, 17.5 inch round with two beautiful gold leaf bunnies in the center. Perfect for entertaining inside or outside all summer long.

 

 

Hunt believes fresh flowers and color are essential in his studio and he uses these bowls to house a variety of objects. There are endless opportunities to use them.

 

Penelope loves gifting napkins as a fun and unexpected gift. She loves to mix it up and give their bunnies, birds and butterflies for an artfully designed tabletop. A wonderful gift that will be used again and again. Even better that they are machine washable, throw them in the washer and dryer without any hassle!
 

Penelope loves to be surrounded by color and to have fresh flowers in any and every color imaginable. Recently she has been buying preserved roses in incredible colors like cobalt blues, purples, hot pinks and chartreuses. Jaime, owner of Parker's Petals in Summit, New Jersey, creates beautiful preserved arrangements which are a special gift for anyone who needs some color in their life. Her new favorite thing is putting them in any one of our three sizes of our Bunny Bowls - such a fabulous addition to any Easter table! 

 

Hunt believes when giving a gift it's important not to overlook the presentation. That's why giving anything from Bergdorf Goodman is just so special. Who doesn't love their beautiful silver boxes wrapped up with their signature bow. Going to Bergdorf is always an event, and he particularly loves all of the candles on the 7th floor.

 

Who doesn't love getting a sweet treat as a gift, but even better when the treats are a work of art! Sending something sweet to a friend is always a great way to say I'm thinking of you. A good friend of Penelope, Eleni, creates the most fabulous and delicious cookies you could imagine. They are perfect for any occasion. Look for a collaboration soon between Eleni's and the Hop Up Shop!

 

 

Hunt loves to give his books as gifts! His recent book "World of Folly" focuses on his home, the Colonel Louis Watres Armory and the vibrant, multicolor interior with a bricolage of historically potent and rare items found from around the world.
 

Penelope wishes she had started collecting art at an earlier age, and with that in mind she always tries to give her kids a piece of art for a special occasion. This way their art collection can grow with them.