Monelle and Gary, Founders of Hudson Grace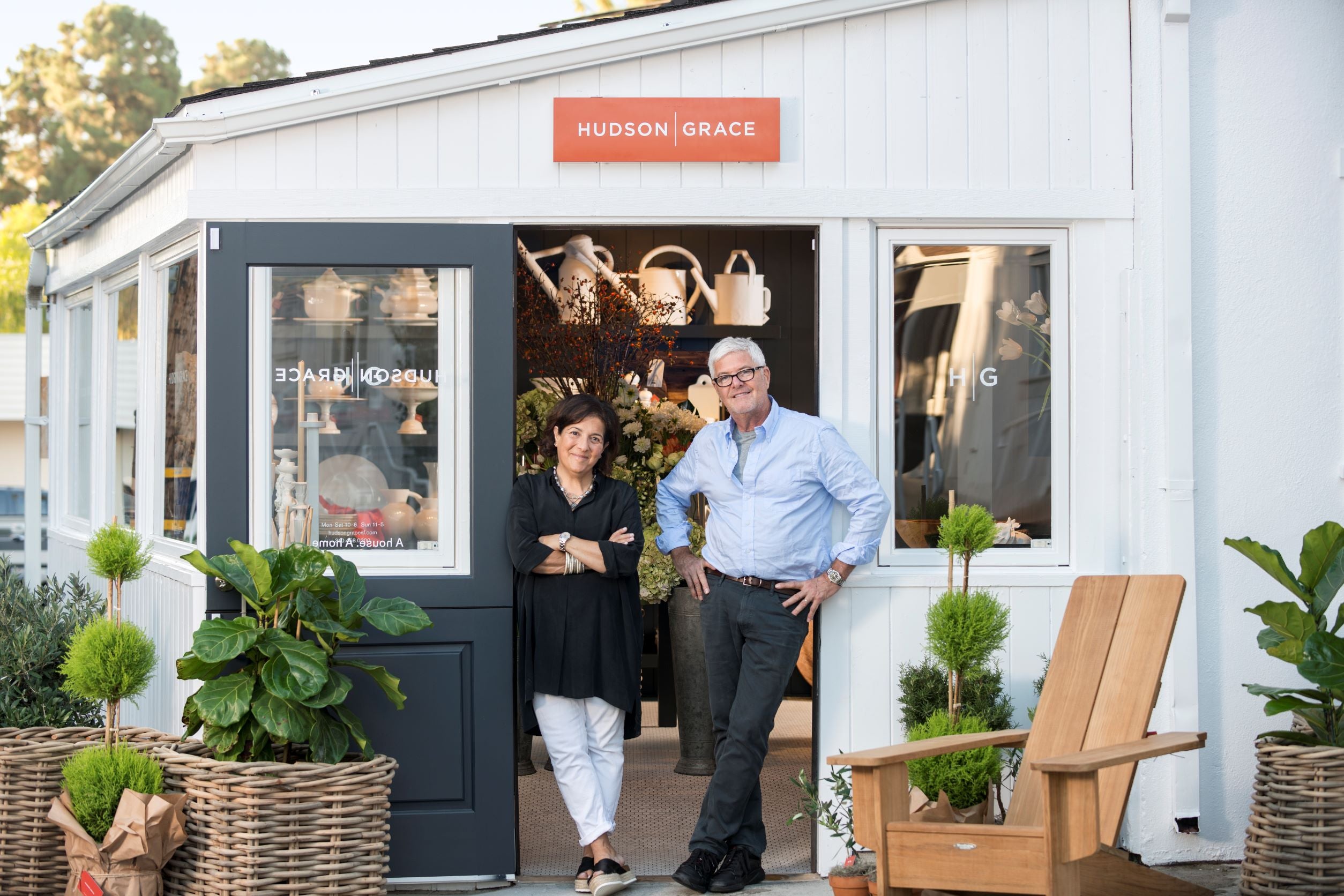 Hudson Grace originated in the hearts and minds of best friends Monelle Totah and Gary McNatton, whose first shop opened in 2012 in the stylish Presidio Heights neighborhood of San Francisco. The brand is a juxtaposition of their design aesthetics and retail pedigrees. Her eclectic yet refined style pairs with his love of simple yet soulful silhouettes to form a timeless, covetable and accessible approach to home design and gracious entertaining. Hudson Grace is the preeminent purveyor of timeless décor for those who love to entertain rooted in a philosophy of simplicity and authenticity.
Picks From 
Hudson Grace...
 

Gary: I love to give our HG Paper White vase with bulbs. I love the scent and love to watch them grow and eventually bloom in the vertical vase. It's a very simple and perfect gift to give and receive.

 

 

Monelle: This year I will be gifting our HG cashmere throw. The feel and the warmth of cashmere is so wonderful and both luxurious to the touch and to the eyes. It is a gift to give to anyone on your list that appreciates comfort, and honestly who doesn't?

 

Gary: Being a fragrance designer I love to give our triple wick winter candle which we introduced it in a stunning chrism vessel. The scent was inspired by a house I owned in the hills of Sausalito overlooking the Bay and San Francisco. One Christmas season I was driving up to the house and noticed the beautiful scent of Bay Laurel which lined the street, and as my car crushed the leaves that fell on the road the fragrance filled the air. I pulled up to the house and opened the front door to experience the scent of a fresh cut Canadian Fir tree leaning against the wall awaiting to be placed and decorated. When entering the home there was a roaring fire in the living room fireplace.  The three notes came together by accident (crushed Bay Laurel, fresh cut fir tree and wood smoke) … and it was the scent of holiday to me, and inspiration to create the scent "winter".

 

 

Monelle: Anyone who knows me, knows I love antique vintage silver, and I use my Paris flea market flatware everday. A set of vintage Demitasse spoons is on my must give list. Setting them on the counter next to the stove makes perfect 'tasting spoons'... of course they will go to someone who loves to cook!

 

Gary: I love giving ornaments as little stocking stuffers to my friends. I love finding the most unusual selections from the romantic to the ridiculous. They also make a great table gift at each place setting … I will find an array of different ornaments and match each to the personality of the guest.
 

Monelle: I still love the lost art of a hand written note. I discovered Memo Press, a UK company (that ships to the US) and they have the most beautiful bespoke cards. Gifting a set of personalized notecards is not only a useful gift (and items great to have on hand), but they are also items we often don't take time to order for ourselves, so the gift becomes special and memorable! 

 

Gary: I personally love gadgets and think they make the best Christmas gifts, especially for the guys on my list. This year I am giving an all-in-one charging organizer for your phone, ear buds and iWatch. It eliminates clutter at the bedside, and makes charging an art form. I found one by Journey on Instagram that is especially handsome and I believe will be a welcomed sight on Christmas morning.

 

Monelle: Walker Valentine is a custom house based in SF, manufacturing personalized one of a kind products. Her travel and jewelry cases make the most wonderful gifts, and she has the most fabulous European monograms. Half the fun is picking the colors and styles - and giving a gift that is truly unique and personalized.