Felix and Loren, Founders of Felix Doolittle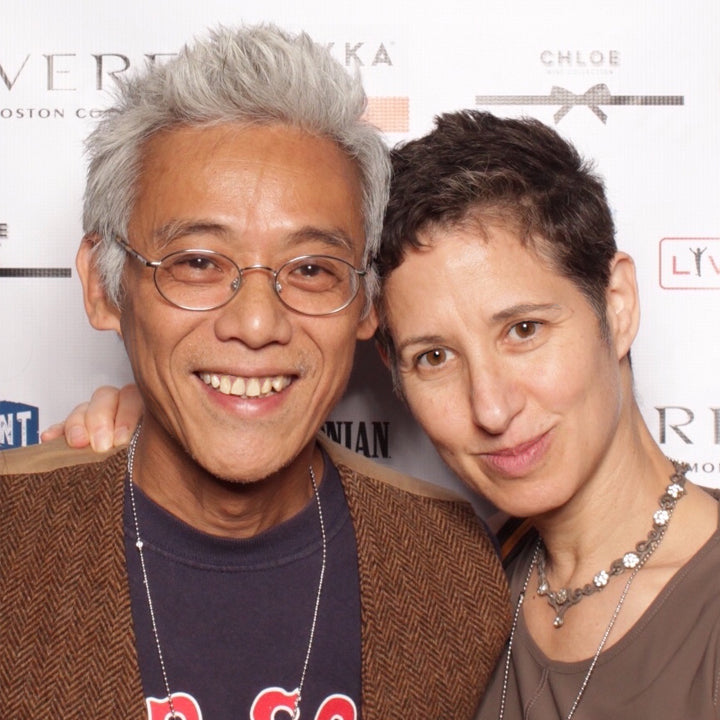 GGG is always on the hunt for gifting brands that pack in a lot of charm so you can imagine our delight when coming across Felix Doolittle!
Founded in 2003 by Felix Fu and his wife, photographer Loren Sklar, Felix Doolittle brings quality, beauty, and whimsy to some of life's most delightful pastimes - writing handwritten letters, reading books, sharing home-prepared foods, and colorfully living.
Loren met Felix at a small restaurant he was managing in his post-college days in Boston. There are probably not many people who look at the writing on the specials-of-the-day board and think they must know the writer, but that's how it was! They initially got together to help each other reach their creative goals. Thirty years later, with a business and a child together, they're still doing just that!
From the beginning, creating beautiful, magical, and meaningful things with Felix's art was their primary objective. Both founders also share a love of fine quality paper which is why artisanally hand-cut and cornered edges are found throughout their product line. Many of the items they create have an element of sharing, they're gifts that foster connections: each letter or note that goes out is a tangible gift of communication; culinary labels are for sharing garden bounties and culinary creations; bookplates are for sharing books (and hoping they'll also get returned) or for sharing with the next generation: and the art we create can last for generations.
Customers fall in love with Felix's joyful illustrations, and return again and again for the care, consideration, and craftsmanship of the products that are created with them.
Below you will find some of Felix and Loren's gifting picks in and outside of the Felix Dolittle line. Some of these picks are also scattered across the site as you browse various gifting permutations! 
Picks From 
Felix

 

Doolittle...
1. Bookmarks - Our new Bookmarks are so delightful and colorful! We keep a bunch on hand for those impromptu gifting moments. 
2. Bookplates - We're real book lovers and most of our friends are too. We'll create a personalized set of bookplates with an illustration that resonates with the receiver's passions and interests. They inspire the young to read, and they help get loaned books returned.
3. Small Note Cards - Our personalized small note cards with their matching address seals are a fun, low-key gift great for any recipient.

 
4. Return Address Labels - People love to see their name and address with an illustration that speaks to them. That's what has made these an all-time favorite thing on Felix Doolittle, and why we continue to give these as gifts - they absolutely delight the receiver!  
5. Signature Note Cards - Personalized signature note cards have the luxury of space for Felix's illustration to sing and for the writer to pen a longer note. The fun thing about giving stationery is that it becomes a gift for someone else when it lands in the recipient's mailbox. It's multiple gifts in one box!
6.

 

Chef Medallions or Oval Kitchen Labels
 - For friends who have a garden or who are masters in the kitchen, these labels are the cherry on top of gifted garden produce, and sweet and savory culinary creations.
1. Flowers - We love flowers for how much cheer they instantly bring to a space. If you can pick them from your own garden and tie them with ribbon, then all the better!
2.

 

Bellocq Tea

 -

Depending on the individual, we pick the tea type. Their canary yellow tea canisters are as delicious to look at as the teas are to drink!
3. Villa Manodori Balsamic Vinegar - For friends who love to cook, this balsamic vinegar shape-shifts every part of the meal into something heavenly. And the bottle is pretty enough to join you at the table!
4.

 

Element Eastern Accent Candles (Mizu l Water)

 -

A lot of candles have an overpowering scent, but these strike the right balance. We love to give this candle with notes of watercress, cucumber, and mint - so refreshing and uplifting!
5. House plants
 - Plants help clean the air, so yeah, we all need that these days. Plus it's nice to have something living with you at your desk or where time is spent.
6. Batle Studio Graphite Objects - Beautiful and useful writing objects that can double as desk art. The swallow is particularly nice because it rocks and the movement is a nice element.