Stephanie Housley, Founder of Coral & Tusk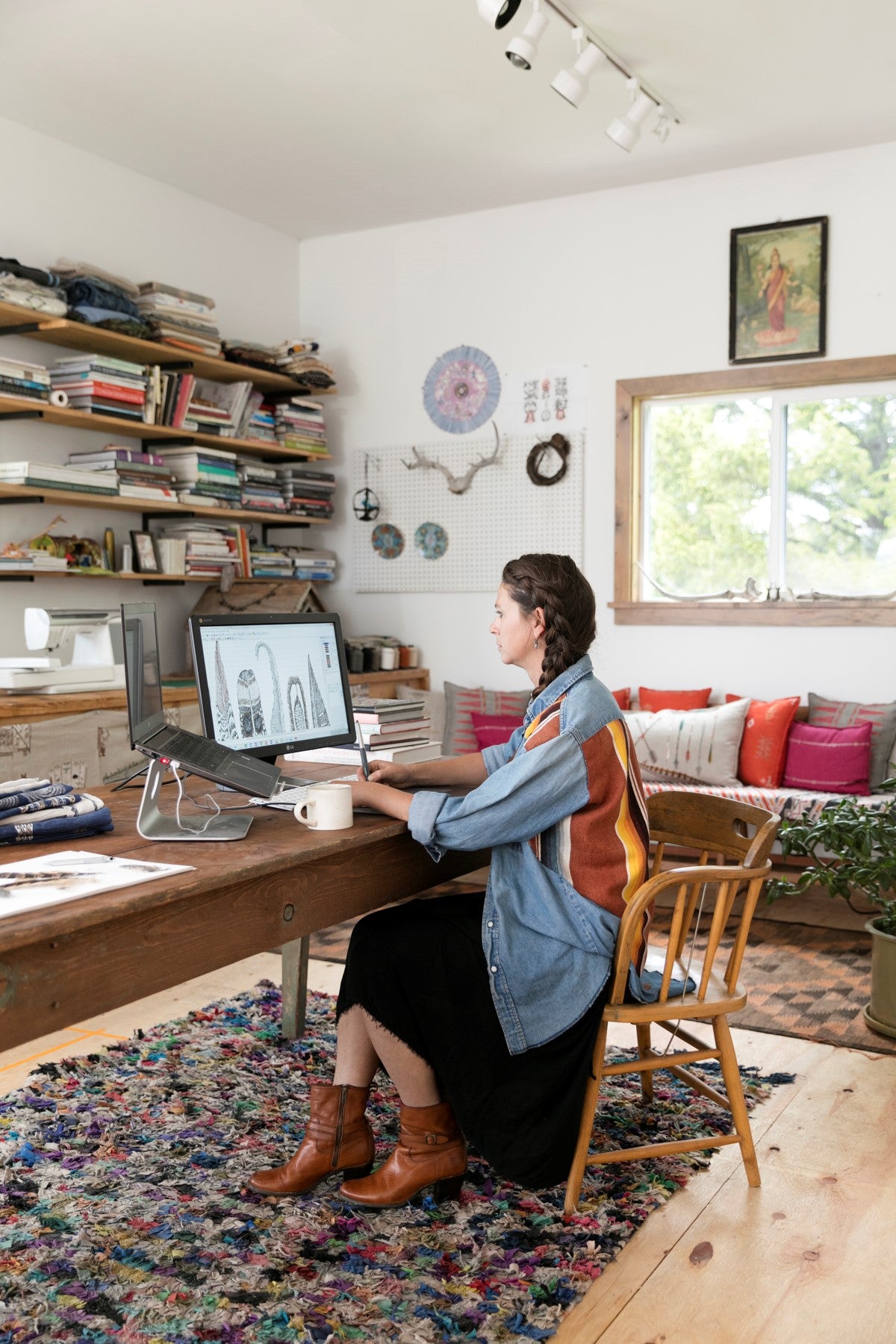 Coral & Tusk creates spirited embroidered textiles for the home and gifting. Founded in 2007 by designer Stephanie Housley, Coral & Tusk's creative process is a special alchemy of storytelling, illustration, and machine embroidery. Designed with an authentic spirit, each Coral & Tusk embroidery begins as an original pencil drawing by Stephanie. Uniquely crafted, with a focus on the natural beauty of linen balanced with the artistry and detail of embroidery, a Coral & Tusk piece is sure to surprise and delight.
Born and raised in the Ohio Valley, Stephanie Housley studied textile design at RISD and worked as a professional interior textile designer in New York City. After fifteen years in the industry, Stephanie founded Coral & Tusk with a single embroidery machine in her Brooklyn apartment. With her strong design background, inherent resourcefulness and the initial help of her husband Chris Lacinak, Stephanie transformed her passion project into a well-loved brand and independent business. As Coral & Tusk has evolved over the years, Stephanie's hand-drawn, machine-embroidered illustrations remain the company's connecting thread. In 2016, after nearly two decades living in New York, Stephanie and Chris relocated to Wyoming. They share their mountain home with their dog Fuji and native wildlife.
 

We just introduced a small collection of throws this year after I received a throw as a thank you gift from one of my best friends, Sunny, after hosting her family here at my home in Wyoming. Not only was it such a thoughtful gesture, but I also use it frequently and in turn have all the more opportunity to think of Sunny's time here with great fondness. 

 

This is my absolute favorite Christmas item this year!

 

I love gifting our table runners because people come together around them and while they are frequently used for celebrations, they're also great for elevating everyday meals.

 

 

I always keep our tea towels and ornaments on hand as gifts for friends & hosts and I also use the ornaments to tie onto a gift for a keepsake touch. The winter birds are a new series this season and this Kinglet Ornament would be a great addition to a package!
 

We worked with Adrienne on our reconciliation effort on cultural appropriation and have forged a strong bond and friendship. I was honored with an amazing gift from her, one of her hand beaded fedoras which I treasure! If I were going all out on this person, I would also add a cuff from here, a female Navajo owned company making incredibly beautiful pieces. This is a great robust directory of Native American makers. 

 

Michele has become a dear friend and confidant over the last many years and I am over the moon at everything she makes. Regardless of whom you are shopping for you will certainly find something perfect in her broad assortment of lovely, carefully and thoughtfully made products.

 

Elyse and I went to Rhode Island School of Design together many years ago and I feel so fortunate to have stayed in touch. She makes phenomenal cashmere accessories. I cherish each piece I own of hers, from the fingerless gloves to the hats. They are luxury items that you feel great about using everyday!

 

 

Another beautiful friend I met through peers and trade shows, River from River Song Jewelry, makes beautiful jewelry that I have gifted several times. I own several pieces myself which I enjoy more and more as time passes. Love everything she makes!