Marcie Pantzer, Founder of Dear Annabelle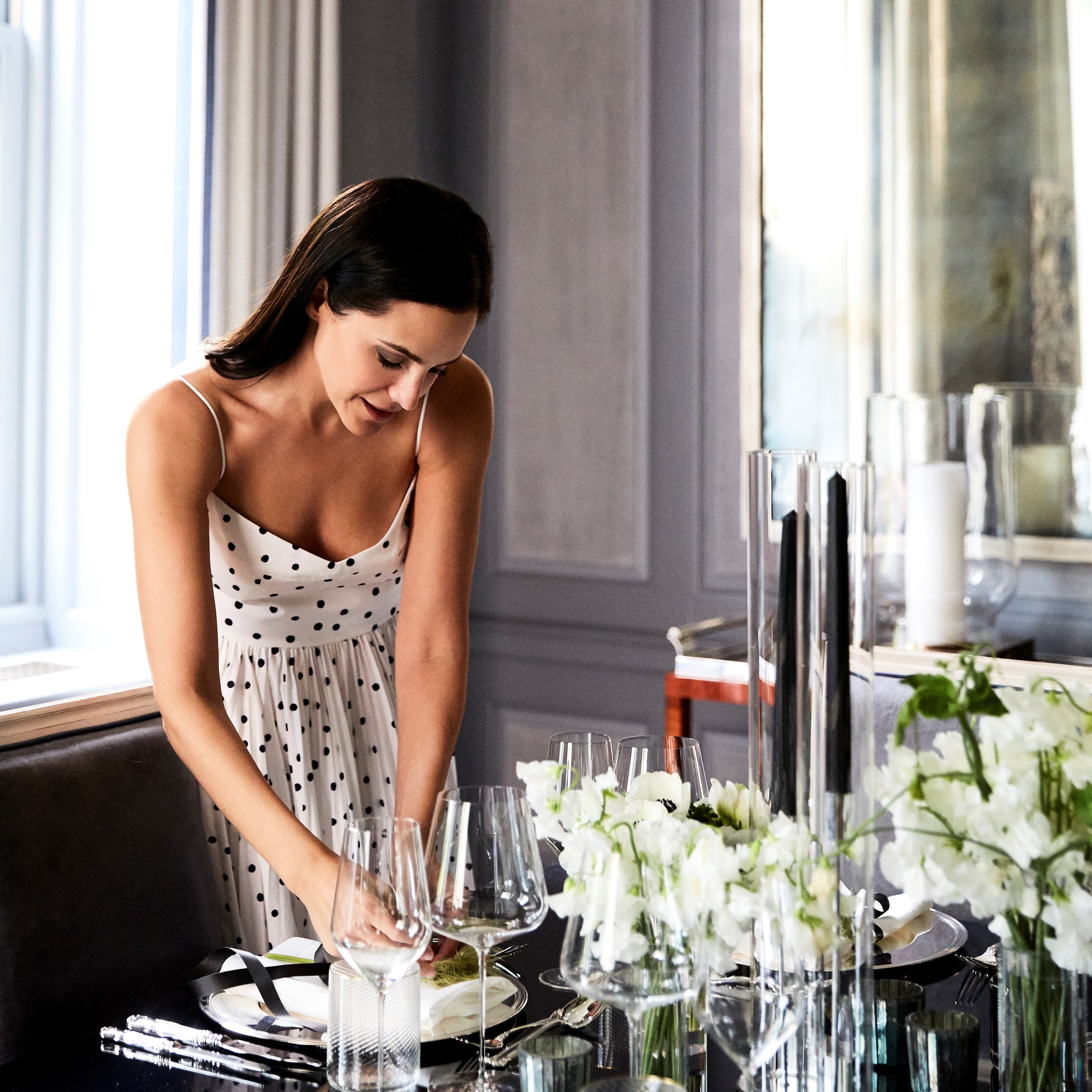 If you have been following/visiting the GGG site for a while you probably know by now that we are all about notes and cards over here! In fact, oftentimes we think sending a well written (and timely) note surpasses any material item you can gift.  Therefore, it should be no surprise that our next guest gift-spotter hails from a gifting brand all about preserving the art of and fun in personal correspondence, Dear Annabelle.     
Dear Annabelle was founded by Marcie Pantzer, an entrepreneur and former Town & Country editor with a love of fine paper products, home decor, and entertaining. An avid letter writer and stationery collector, Marcie dove headfirst into her personal obsession with the craft of correspondence by creating modern, luxury paper goods that offered timeless glamour with a wink.
Dear Annabelle makes luxury paper products and home goods for those who appreciate the art and soul of meaningful exchange, whether it's a hand-written note, an invitation to dinner, or a personal name card made just for you. Inspired by the refined style and collector's eye of its founder, Dear Annabelle invites people to cultivate personal, intentional connection — a rare and precious gift in our increasingly digital age. With elegant, playful designs, richly saturated colors and countless hand-crafted details, Dear Annabelle embodies the sophistication and surprise of the epistolary form. Share news, send love, do business, or simply say hello — and make it mean more with Dear Annabelle. Dear Annabelle is committed to protecting our environment, and the brand carefully purchases it paper stock from FSC-certified companies that demonstrate a similar commitment to our planet through sustainable forestry practices. Additionally, Dear Annabelle is proud to donate a percentage of all sales to One Tree Planted, a Vermont-based environmental charity focused on global reforestation through tree-planting across the world.
Marcie resides in New York City with her husband and four children. The name, Dear Annabelle, is a loving nod to her daughter, Annabelle
Below you will find some of Marcie's picks in and outside the Dear Annabelle line. Some of these picks are also scattered throughout the site as you browse various gifting permutations!  
 

With everything going on in our world, I think we can all use some cheer in our lives and in our homes. These notepads make me happy when I see them on my desk or kitchen counter and serve as sweet little reminders to look on the bright side and practice gratitude on a daily basis. 

 

I love the idea of flattering each and every one of my guests as they sit down to dinner. Who wouldn't want to be a Rockstar or Hottie? As the hostess, it's fun to assign monikers to each of my friends, imagining how each of them.

 

When I really want to spoil someone (like my best friend on her 40th birthday), I love to gift friends and loved ones bespoke personalized stationery from Dear Annabelle. There is nothing more elegant than a beautiful hand-engraved and edged notecard with your name for special correspondence.

 

 

I love the personality of this font — retro-classy with a wild side (hence, the name). They're beautifully engraved on luxuriously thick paper stock with gold painted edges, and yet they are the least stuffy things on the planet. The colored envelope liners make this set one of my absolute favorites.

 

Sometimes it is fun to be a little sassy. I love a card that give the recipient a little chuckle — which is what everyone does when I give them one of the cards from the Naughty collection. When it comes to giving the set as a gift, I love that it's probably not something would buy for themselves, which makes it extra fun to receive.

 

I'm always looking for an excuse to celebrate happy occasions. These notecards fit the bill every time, whether it's a nephew's graduation (balloon dog), my best friend's birthday (champagne coupe). The coordinated printed envelope liners make them all the more celebratory.
 

My number one gift is sending fresh flowers from Plaza Flowers in NYC and Sag Harbor Florist in the Hamptons. I also love to give vases with dahlias fresh from my garden. My current favorite vase is this "paper bag" vase from Rosenthal, which I purchase on Moda. 

 

Since most of my friends love cocktails as much as I do, I adore gifting cocktail napkins along with a beautiful bottle of tequila. Some of my favorite cocktail napkins are made by Hibiscus Linens, where Mariana and her team hand-embroider them using traditional Mexican stitching techniques.

 

For my friends who love to cook, my favorite thing to give is a beautiful bottle of olive oil. (You can never have enough good olive oil.) Our new favorite is called Brightland – I love the pretty packaging and the flavor is delicious. The olives are grown in a family farm in California, and the quality is amazing.

 

 

I collect trays and love giving them as gifts when I am looking for something a bit more extravagant. The wicker trays from Hermès are a classic, and are utterly timeless. I love the leather handles and in-laid glass; they are perfect for a beach house.



 

My other favorite gift is a personalized straw bag. My current favorite is from By Tatoufa. They are handmade to order in France and you can add a name or initials in a variety of fun colors. I first saw them at the Aerin store in East Hampton and was hooked.