Aishwarya Iyer, Founder of Brightland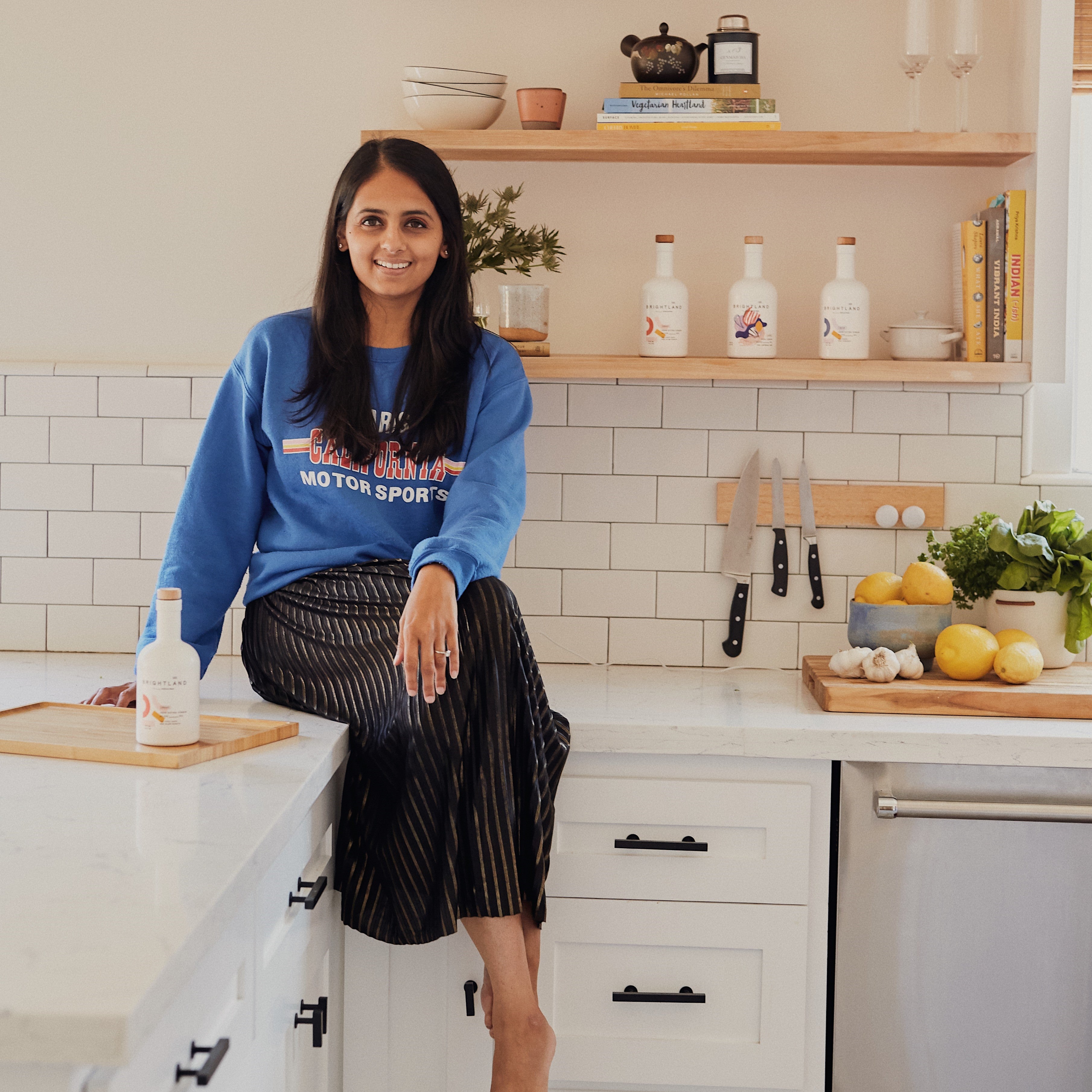 When Aishwarya Iyer and her husband started to get into cooking, they expected to improve their well being and boost their confidence in the kitchen. Instead, they got a little nauseous. After eliminating likely culprits like cheese and bread, they discovered - much to their surprise - that the cause was actually their olive oil!
A bit of research uncovered that the olive oil Americans consume is not what we think it is. And no one was talking about it. So Aishwarya decided to start the conversation.
Brightland was born out of a desire for better, more honest food production - and a deep belief in the land and what it provides. Aishwarya ancestors were salt farmers in South India; the land provided for them, and in turn they provided salt for people in the South. A beautiful cycle when left untouched. Aishwarya applied this concept to the California sun & soil, and the beautiful olives, grapes and fruit they yield. It's her wish that her products provide abundant nourishment to you and the people you love for many breakfasts, lunches and dinners to come.
Brightland has been featured by the New York Times, Vogue, goop, Fast Company and more. Priror to starting Brightland, Aishwarya spent over a decade in public affairs and corporate communications at various technology companies in both New York City and LA. She started her career at L'Oreal in the luxury products division at Lancome, and is a graduate of NYU's Gallatin School of Individualized Study. Aishwarya is originally from Texas, and now lives in LA with her husband and dogs, Crosby and Madison. 
Below you will find some of Aishwarya's picks in and outside her line. Some of these picks are also scattered throughout the site as you browse various gifting permutations!
 

The Mini Essentials include Brightland's bestsellers - AWAKE, ALIVE, RAPTURE and PARASOL - in petite sizes. I love this gift because it is just the right size for a stocking stuffer, and beautifully packaged - so no need to wrap. 

 

Our Artist Capsule features Brightland's flavored oils - LUCID, ARISE, and ARDOR - all with special artist labels. It is my go-to gift for a creative spirit who will appreciate the merging of art and food. The capsule also complements a wonderful feast with its zingy acidity and herbaceous greenery.

 

Paired together to balance and round out your kitchen, The DUO includes Brightland's AWAKE and ALIVE oils. This is a thoughtful option because you can add a monthly subscription, making it a fun gift that keeps on giving.

 

 

I love The Essential Capsule because it features the perfect foursome of essentials: Brightland's DUO (AWAKE and ALIVE olive oils) and the PAIR (RAPTURE and PARASOL vinegars). This is a lovely introduction to stocking one's pantry for new home cooks.
 

Evermill's Counter Top Rack is a beautiful rack that keeps your spices organized while looking elegant in your kitchen. Spices are essential to pretty much all of the dishes I cook at home, so this gift feels incredibly relevant and useful for friends who similarly enjoy cooking. 

 

AMASS makes ultra-premium, small batch botanic spirits, giving their gin a modern twist. My go-to cocktail to make for myself at home is AMASS gin, Brightland's PARASOL champagne vinegar, sparkling water, mint leaves and one slice of an orange.

 

Orange Glou is a fun subscription service that delivers the most exciting, highly allocated natural orange wines to you monthly. It is perfect for friends and loved ones who appreciate wine. My husband and I are currently enjoying natural orange wines paired with an early evening charcuterie board.

 

 

I recently purchased Yotam Ottolenghi's newest cookbook and it has been such a joy to cook from (especially the Za'atar Cacio e Pepe - blew my mind!). I will definitely be gifting it this holiday season.